20/07/2021: Important update on our services
The Trustees met yesterday evening to discuss the easing of legal Covid-19 restrictions, the Baptist Union recommendations and what last week's announcements mean for Swallownest Baptist Church.
 
As restrictions ease, we are all aware that many of you will be looking forward to worshipping together freely as a church family.  However, we are also aware that many of you will be increasingly wary or anxious, as we hear about some of the highest case numbers so far, and hospital admissions and deaths both rising. Last week, Professor Chris Whitty said that the UK is not out of the woods yet and that people should proceed with caution.
We therefore aim to set out a way forward, for the short term, that reflects not only our desire to be "normal", but also our desire to care for every member of the church family and wider community. The Trustees agree with the Baptist Union, who recommends "that it is both sensible and appropriate for churches to continue to take some measures to limit the spread of Covid-19." With this in mind, we believe the following measures are reasonable and will be in place from Sunday 25th July:
There is no need to book a seat for the service. We will keep a record of who attends for track and trace purposes. We will keep the list for a few weeks before destroying it.
No social distancing will be required. You can sit with, and talk to, whoever you like in the building! Please be sensitive of others, though. whereas some people will be ready for hugs and kisses, others will want to sit alone.
We continue to strongly advise that face coverings are worn in the building throughout the service.
Singing will now be allowed – ideally from behind a face covering.
We will continue to maximise the ventilation through the building by having as many doors open as possible.
We will continue to provide hand sanitiser on entry and exit of the building, and would encourage its use.
For the two communion services in August (1st and 15th) we will continue with the current arrangements of "bring your own"
We will, of course, continue to monitor the situation over the following weeks, and will make adjustments to these procedures as soon as we feel we can.
We are looking forward to seeing you again, when the time is right for you. We will continue to livestream our Sunday worship for those people who feel uncomfortable attending in person, or who are unable to do so.
 
Please get in touch if you would like to discuss any of the above, or if you need anything.
 
God bless,
The Trustees
03/03/2021: Important news!
You'll all be aware of the Government setting out a road map, easing the restrictions of the current lockdown. We're writing with some information about how things may change for us at Swallownest Baptist Church over the next month or so.
We took the difficult decision to cease in-person services in January due the increasing rate of infection and the National Lockdown. We were also guided and supported by the Baptist Union in that decision. As the government releases its roadmap, the guidance from the Baptist Union has also altered. Their latest advice suggests "churches consider their own plans for re-opening and take the decisions that are appropriate for their own local circumstances. Reflecting the still significant levels of cases and risk posed to the community and given that the general 'Stay at Home' rule remains in place in England until 29 March, it is reasonable for churches to choose to stay closed at this stage."

Having considered this advice, the Trustees have decided to keep live-streaming only throughout March, while the National Lockdown is in force. Once the 'Stay at Home' order is lifted (from Monday 29th March 2021) we are pleased to announce that we will resume in-person services and some group activities, with the same restrictions as we had at the end of 2020. Our first Sunday service with a limited congregation will therefore be on Sunday 4th April (more details will follow closer to the time).
It is important to remind ourselves that we have come this far without a COVID-19 fatality within our immediate church family. Let us not blow it now by ignoring the restrictions; we may not enjoy them, but they are in place for our health and safety. It is worth reminding everyone of the restrictions that church attendance will be under:
A booking system is in place, on a "first come first served" basis. We use the sanctuary first and then use the school room once we are at capacity.
The details that you provide when booking your seat will be kept secure and are only used for track and trace purposes. These details will be destroyed after 21 days.
A 2-metre social distancing rule remains in force.
There cannot be any socialising whilst in the building.
Face masks must be worn. Face shields or visors are not an alternative to face coverings, because they do not securely cover the nose and mouth. If someone wishes to wear a face shield, they must also wear a face covering underneath unless the person is exempt for health reasons.
Congregational singing is not yet permitted.
Please be aware that if you attend the building you may be in camera shot, although this is likely to be the back of your head.
We understand that many of you will be cautious or uneasy about returning under these current restrictions and would prefer to stay away. That's fine – we will continue to livestream the services, which will continue to be available on our YouTube channel.
Finally, please get in touch with  if you would like to discuss any of the above points. Please continue to pray and support your team leaders and each other.
Yours in Christ,
The Trustees
06/01/2021: Important news
As we enter another national lockdown and as the infection and death rates climb, we need to be ever more vigilant and do our part in preventing the spread of COVID-19.

The Baptist Union issued a statement in light of the Government's announcement on 4th January regarding the national lockdown in England. The statement reads:

"We strongly encourage churches not to open their buildings for in-person meeting if at all possible.
We recognise that the Government guidelines allow churches to remain open in England during this period; however, given the significant increase in numbers of Covid-19 infections and pressure on the NHS, we advise churches to stand with the wider community in making every effort to limit the spread of the virus.
We know that geographical contexts differ across England and we are aware that the decision lies with the local church. Nonetheless we are mindful of the pressure church leaders are under and the greater risk taken by all those involved in hosting open buildings for whom we have a duty of care.
This is a changing situation and we very much hope this will be our advice for only a short period."

In light of this advice, the Trustees met last night to discuss the best way of minimising risks and the spread of the virus. It is with very heavy hearts that we announce that we are ceasing in-person meetings with immediate effect. Let us be clear that none of the Trustees are happy about having to take this decision. However, we all deem that it would be irresponsible to continue meeting just because we can. We know that ceasing to meet together is a sacrifice, and for those who already feel isolated this is a huge ask.

We will continue to livestream our services from the building albeit with a reduced team, in order to reduce the risk of infection for all concerned.

Our freedom to worship and witness must always be held in tension with love. As Christians, we have always had something profound to say about the nature of sacrifice and selflessness. At this time when our society is speaking and relearning the language of laying down their life for their friends, it would be deeply ironic if we put our own need to worship in person before the common good. In the sacrifice of losing a Sunday gathering, we believe, we join with our communities to ease the strain on the NHS and save the lives of friends and strangers.
Please do get in touch if you need any assistance. We will do our best to help you.

Let us stand together in the hope we have in Christ and we are praying for all at this difficult time.

God bless,
David
On behalf of the leadership team.
03/12/2020: Latest update
The national lockdown has ended and we have return to a tiered system. The government has been clear that this is not a return to the old tiers of October, but that they have been replaced with more stringent restrictions. The things we are all allowed to do are slightly different. As a leadership team, we have always tried to give priority to the safety of our church members and our community, as well as having concern for the vulnerable within the congregation.
The latest rules allow us to continue to broadcast acts of worship, so we are able to continue livestreaming on YouTube on Sunday morning from within the church building.  Those involved in transmitting the service are able to be inside the church building, so please do continue to join us from home.
With that said, we look forward to reopening the doors on Sunday 6th December, for those who want to watch the service from the building. Just like before, you can attend a service by booking your place. People need to book because our building size and layout restricts us from safely accommodating large numbers of people in a Covid-secure way. Services are currently limited to twenty people.
We will continue to meet online throughout the week, and hold as many activities as possible in this alternative way.
If you would like to be kept up to date with the very latest news and details on our events and meetings, please get in touch.
01/11/2020: Latest update
We have recently been excited to be able to have people back in the building for our Sunday morning service and some other midweek events. However due to the latest government announcement, yesterday evening, we once again have to close our building during the national lockdown period until the 2nd December. 
The latest rules do still allow us to broadcast acts of worship, so we are able to continue livestreaming on YouTube on Sunday morning from within the church building.  Only those involved in transmitting the service are able to be inside the church building, so please do continue to join us from home.
05/10/2020: Live streaming and update on re-opening of building
We are now live on YouTube on Sunday morning as we bring the service from the church building via livestreaming. All of the service (except for the worship songs which are still pre-recorded) is now being broadcast live rather than recorded in advance. At present only those involved in transmitting the service are able to be inside the church building, so please do continue to join us from home.
We are however in the early stages of re-opening the church building, and look forward to starting to be able to invite people to return to the building. After so many months away, we are really excited about the opportunity to be able to bring people back again. We hope to run some meetings in future from within our school room to the side of the main church. Please get in touch if you would like to be kept up to date with fuller details on this.
06/09/2020: Re-opening the building
A video update on the re-opening of the church building was provided as part of the weekly notices in our Sunday morning online YouTube service. Those on our church email distribution list will also have received a follow up email with further information and a questionnaire for providing feedback.
17/08/2020: Update on return to our building
As a leadership team, we want to assure you that we are continuing to monitor the current situation with the pandemic and looking at ways of how we could prepare for a return to our building. This will take time and a considerable amount of work. We will send some information and a questionnaire out to you in the very near future, which will assist us as we make these important decisions. Please do get in touch if you want to discuss this further.
06/07/2020: End of midweek devotions
We will be drawing the midweek devotions to a close at the end of July. After prayerful consideration we felt that it is time to move onto new ventures. We want to thank all of you for tuning in each week and for your prayers and support over the months. However, you can access other devotions and podcasts via the internet and Ben has put a short video together with some really helpful information.
26/05/2020: COVID-19 update
Rob, Ben, and I have been praying and talking a lot about the months ahead.
Please do take your time to read this document, that contains some important information outlining our plans over the next weeks and months, ahead of the easing of lock down restrictions. Please get in touch if you have any questions.
A video presentation of this update is also available. This has been sent out to those on our church email distribution list. It has also been posted on our internal 'News and Info' Facebook page, for those who are members of this group.
Please continue to pray about the situation and for each other. For now though, do take great care, stay safe and God bless.
Grace and peace, Rev David Skeet (On behalf of the leadership team)
17/05/2020: No Internet, no problem!
We have set up a dedicated telephone service for those who have no internet connection and are unable to watch our YouTube videos or access our online recordings. This plays the same audio recordings that are made available each week through our website.
Simply dial our dedicated local number on a telephone, listen to the short introductory message and then press 1 for our latest Sunday Service, or press 2 for our latest Weekly Devotional. Calls are charged at standard UK local rate. If you have free minutes on your phone package it may be included, but if in doubt please check first with your phone service provider. Please note that we aim to update the audio files, on both our website and this telephone service, within 24 hours of their original release on YouTube each Sunday and Monday.
0114 478 2697
Do please pass this on to any family, friends or neighbours that this might help.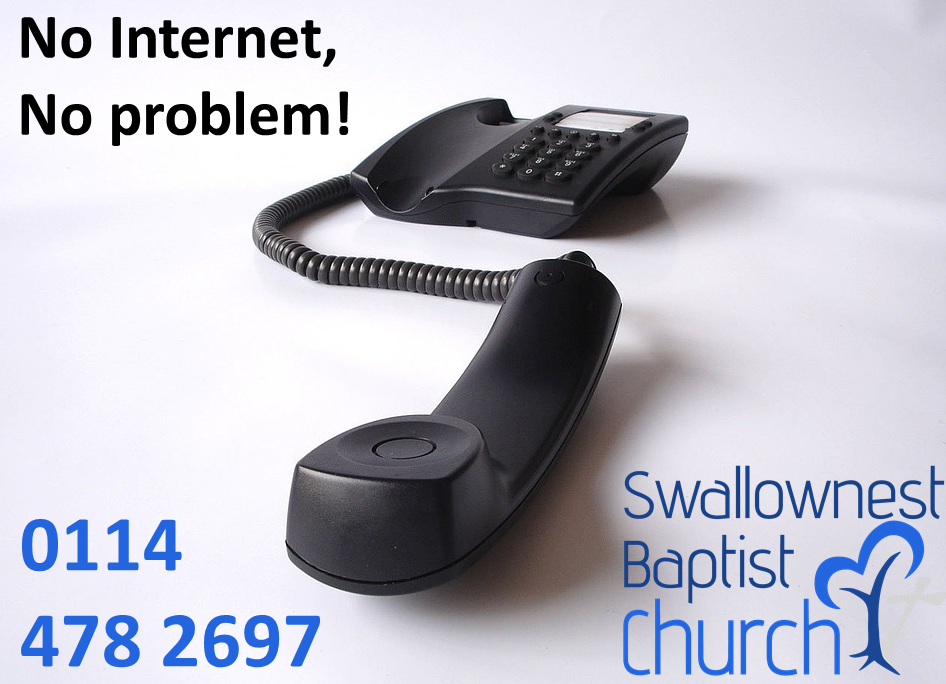 14/04/2020: Update – Online Church
The weekly devotional is now online! We will be uploading it on a Monday each week so that you can access it at whichever point in the week is best for you.
We will continue to meet together on a Sunday at 10.30am for our main service of the week, this week (Sun 19th April) Olivia will begin a series on Ephesians chapter 1 and we will be taking communion. Make sure you have your own bread and wine ready to join with our church family for this special time.
You can subscribe to our YouTube channel and click on the little bell to get notifications when we post something new
There are lots of other online places where you can access scriptures and teaching too. Here is a link to a blast from the past – Ben giving us the lowdown on where we can get our online spiritual food.
As well as this the House Groups are now starting to get into the swing of meeting without meeting. Being part of a House Group is a great way to develop more in depth friendships with each other and with God. We'd like to encourage you to engage with whatever your House Group is doing over this time at home and if you are not yet part of a House group, but would like to be, please contact a member of the Eldership who will be able to help you find a place that will suit you.
04/04/2020: Join us for our Sunday Service & information on our Easter Services
Join us for worship and teaching tomorrow at 10.30am.  We will be taking communion so please have your bread and wine ready.

This will be the last in our Lenten series looking at the final words of Jesus.  It is so lovely to see everyone coming together and commenting during the service, it really feels like our family is coming together. So do join us and join in the chat.

The image below shows information about our Easter Services this year, which will be in addition to our normal weekly activities.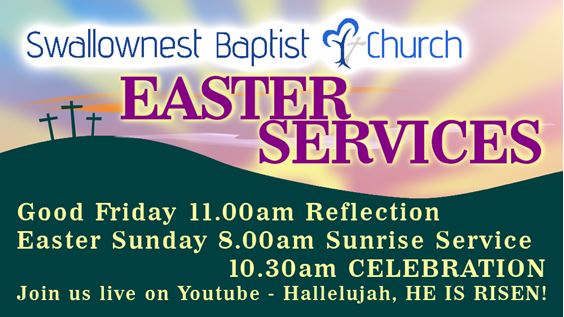 30/03/2020: An update and a reminder of what's on
We pray this finds you all well. It's times like this that we all need to make sure that we keep in touch. Being isolated for a prolonged period of time isn't great for anyone, and so may we encourage you to get in touch if you need help or just want to chat, all while following the government's guidelines. It's good to talk! Your support and prayers are greatly appreciated, especially for those that are struggling in these uncertain times.

We have released a number of  videos now. We hope you have found them a comfort. As strange as it is, not being able to meet in person, it has been a real blessing that we can all come and gather together, wherever we are. These videos will continue to be released throughout the week at specific times: a time of prayer/devotions (Monday and Friday morning at 0800), a mid-week bible study on Wednesday evenings at 19:00 and a service on Sunday mornings at 10:30. Don't worry if you miss anything at the published time, as it will stay on YouTube for you to catch up whenever you are ready. Please also make use of the comments section and add your prayers too.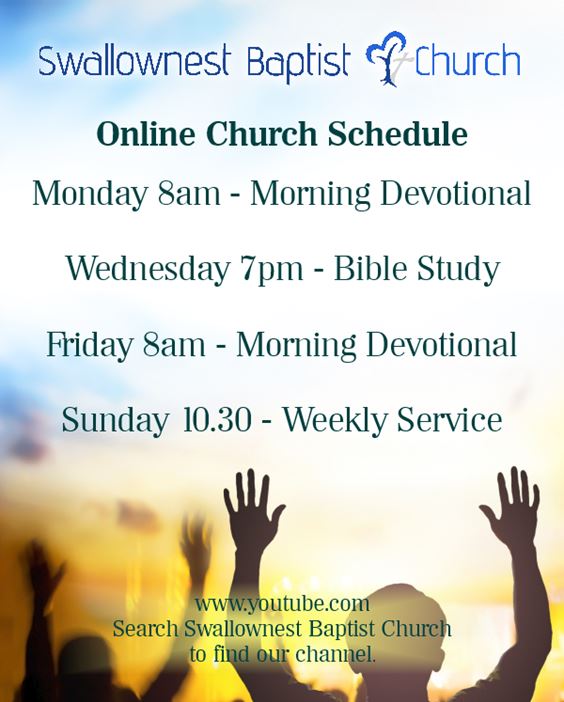 We will also be having our regular times of communion on the first and third Sundays of the month. So, on Sunday 5th April we invite you to have some bread and wine ready to partake in the Lord's Supper as we gather around the Lord's virtual table. We will also do this again on Good Friday and then on Sunday 19th April.

Finally, the latest edition of our Newsletter is out, please follow this link to read it.

Thank you for taking the time to read this and, if you get stuck and need help with anything, please do get in touch.

For now stay safe and God bless, David, Rob & Ben
21/03/2020: Join us tomorrow at 10:30am
Do you want to join us tomorrow morning? Our service will be live from 10:30am
From 10:30am tomorrow morning our service will be live for viewing on YouTube. If you managed to find our morning devotional time during the week this week just head back there, alternatively you can just click this link.
Leave a comment
It would be great to use the comments box as a way of communicating live with each other and giving the feeling of us all being together.
YouTube has two ways of doing this. The 'chat' box is for instant temporary communication. This box only exists while the video is live and can be a great way to share thoughts or just say hello to everyone watching.
If you want your comment to be permanent for someone to be able to come back to, for example any questions you have that you would like us to pick up and come back to you with, these are best left in the 'comments' box below the video.
We are really looking forward to being able to do this at this time.
Hope to see you tomorrow.
Take care and God bless. David, Rob & Ben
---
20/03/2020: Communication – our next steps
Hello,
Thank you to all of you who responded to our last update. It was really useful to see the types of communication you find most helpful.
Following on from our last update, we now have our first video on our YouTube channel, this is a call to prayer and how we can be a beacon in our communities. If you have not yet seen it please head over to the channel and take a look.
Video Church Sermons
On Sunday we will be having a virtual service. We are wanting to keep everyone connected as much as possible. Therefore we invite you to join us online at 10:30am for a time of worship and fellowship. We'll have some worship, notices, spend some time with scripture along with a time of prayer. The service will hopefully look and feel similar to what we are use to on a Sunday but from the comfort of your home. We know this isn't ideal but we are working hard to make it as best we can, so please bear with us!
Please go to our YouTube channel to watch the service at 10:30am Sunday 22nd March 2020. If you are unsure about how to do this please look at our message on accessing YouTube or just send us a message. We will also be linking videos to our website so you can also watch it from there.
Midweek bible study
We will be launching a bible study on Wednesday 25th March 2020 at 7pm. We will continue to look through 'The Crucified is my Love' for the remainder of the lent period. We will spend around 30 minutes engaging with the book and taking a deeper look into scripture. There will be opportunities for you to post questions and suggestions. We will look at these at the start of the next session the following week and hope to provide some answers for you. Again, this too will be on our YouTube channel so head over there to watch this.
Buddy up
Hopefully you've had a chance to connect with a 'buddy'. This would be someone else in the congregation who you can talk with every so often, in any way that works best for you. Many of you will already have this support network in place, but if you would like us to put you in touch with someone who you can phone, Skype or text, we'd be very pleased to help. It really is just an opportunity to catch up with people, asking how they are, making sure they have essentials, and maybe praying together. If you would like to be buddied up with someone please let us know and we would be happy to make sure you get to connect with someone.
Into the community
The government has made it very clear that we have to be very careful about our physical contact with each other, but one way some of us might be able to help our neighbours is to fill out this slip with your details and posting it through someone's door. The purpose of the form is to give people your name and number to tell them they can contact you by phone if they are self-isolating. In this way, you might be able to help them with an offer of food, shopping or just a chat on the phone. It could save people from feel lonely and isolated.
We are not encouraging people to put themselves at risk; be careful with contact with other people and try to just post the form through letter boxes.
Offering – giving to the work of the church
We want our church to be able to continue normally as possible at this time. Clearly, we have had to make some significant changes to the way we are doing things, but many of you have asked about opportunities to give financially to the work of the church. This is a principle we see in scripture and would normally include in our services. As ever, we must stress this is something for our regular church family only, there is no expectation for anyone else.
If you already give by standing order then there is no need to change anything. If you don't give by standing order but would like to start, please get in touch and we can send you the bank details to get this set up. We will be looking at other means of giving too in the future so watch this space for more information.
Thank you for taking the time to read this. As always, if you need any further help or support please give us a call or get in contact. We will keep the website and Facebook page up to date with the latest information.
Take care and God bless, David, Rob & Ben
---
18/03/2020: Accessing our YouTube Channel
Want to join us for our Sunday morning gathering? Here is how you can.
As of this week, we find ourselves no longer able to meet physically together. As a way to continue coming together in spirit (if not physically) we will be making use of our YouTube channel. We plan to release videos set to come out at specific times, when we can all come and gather together, wherever we are. These videos are going to be released at two specific times for now – a service on Sunday mornings at 10:30 and a mid-week bible study on Wednesday evenings at 19:00.
It really couldn't be easier for you to join in. There are three simple steps to allow you to join with us for these meetings.
Step 1. Head over to YouTube. This could be on a phone or tablet using the YouTube app, on a computer or laptop by heading to www.youtube.com or even on a smart TV.
Step 2. Search for Swallownest Baptist Church. There are not many of them so we normally come out on top!
Step 3. Click the picture of the church to take you through to our channel, here you will find all our videos, just watch and enjoy.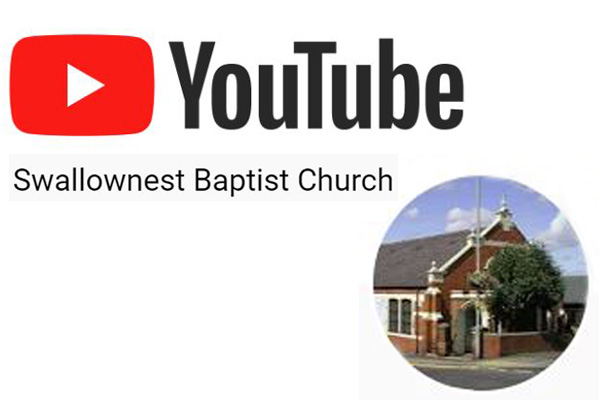 Easier still, just click here!
You might also find it helpful to click the 'Subscribe' button and the bell icon. That way you will get notified every time we put something new up.
Our first upload will be going out tomorrow morning at 8:00am, for those who are able to join us for a short time of prayer to start the day, we would love it if you could come and watch it. Don't worry if you miss it at the published time, as it will stay there for you to catch up when you are ready. Please also make use of the comments section and add your prayers too.
Thank you for taking the time to read this and if you get stuck and need help with anything, please do get in touch.
God bless, David, Rob & Ben
---
17/03/2020: Sunday services and communication update
Good afternoon everyone,
Sunday services
Following the government's announcement yesterday, and having taken advice from national organisations, we have sadly come to the decision that we will not be meeting on Sundays for the foreseeable future. The scientific evidence is clear that meeting together significantly increases the risk of infection, and numerous people in our church family are at higher risk of medical complications.
However, the work of Swallownest Baptist Church will not stop. We are already working on something for this Sunday, and it is as important as ever that we support each other, practically, spiritually, and emotionally; we just have to work out how!
Communication
As we approach the unknown of the coming weeks, we want to make sure we have effective lines of communication open with you; both so that we can keep you up to date with the latest church news, but also so that you can keep in touch with us and other church members.
In the remainder of this update, we want to let you know about a few ways of communication that exist already. We also want to get some ideas from you about what you might find helpful going forward.
What can you do already?
Most of you should already have a church directory, which contains the contact information for most people in the church. If you want any help or information please get in touch with any of the church leaders who will be happy to help. Beyond this, we have a few other options for communication that already exist:
• Our website is kept up to date and now has a page all about Coronavirus with the latest implications for us as a church.
• We are also trying to keep our Facebook page up to date with information too. If you use Facebook, you might want to join our private Facebook group. This gives you a place to ask for prayer or share information that you might not want to go out beyond those connected to the church in that group.
• You can contact us via our website contact form. This points to our church email address which is checked very often. We can normally pick up and respond to messages quite quickly.
• Please try not to use the church Twitter feed, as we don't tend to use it as much as other social media.
What else can we start doing?
We know that most of us prefer to meet face-to-face. This is one of the huge blessings of a normal Sunday morning. However, as this is becoming more difficult, we want to make sure we can keep connected in ways that will help and support us in the coming weeks. It would be really helpful if you can let us know if you use any of the following forms of communication, so we know the best ways we can stay connected.
• Video communication (such as Skype, Facebook Messenger or WhatsApp Video)
• Voice calling (Good-old-land-line, mobile phone etc.)
• Text message (mobile phone text, email, Facebook Messenger, Whatsapp)
• Social media (Facebook, Instagram, Twitter, YouTube)
• Other connections (YouVersion Bible app etc.)
• Something else?
So, please let us know how you like communicating, so we can adapt our plans to meet your needs.
Don't forget, the best place for up-to-date general information is an official government site or a reputable news site. We suggest you check www.bbc.co.uk or https://news.sky.com/uk For up-to-date medical advice, visit https://www.nhs.uk/conditions/coronavirus-covid-19
We will keep in touch about the implications for us as a church. Please keep in touch with us and each other.
Take care and God bless, David, Rob & Ben
---
17/03/2020: Coronavirus Update 17th March 2020
Important update following Prime Minister's announcement
Good morning everyone,
Last night, the Prime Minister and medical experts held a news conference on the ongoing Coronavirus pandemic. Everyone in the UK is now being advised to avoid "non-essential social contact" and to avoid place like pubs, theatres and social venues.
In light of this advice, we recommend that Housegroups do not meet face-to-face for the foreseeable future. The three of us are prayerfully considering what this news means for our Sunday meetings and we will be taking national guidance. We will let you know, via email, text and our website, once a decision has been made.
This situation is developing incredibly rapidly, and we going to limit our communication to how it affects us as Christians. In the meantime, please join with us in praying that our national leaders make wise decisions, in praying for peace in our souls during this time of worry, and in praying for God's protection over our most vulnerable. Please get in touch with us if you have any need at all.
God bless,
David, Rob and Ben
---
14/03/2020: Sunday morning service
Our Sunday morning service tomorrow will be going ahead as normal. We would love to have you you with us so please come down. The service starts at 10:30 .
---
14/03/2020: Meal Postponement
It's with regret and sadness that we need to let you all know that we won't be able to go ahead with the meal after church next Sunday (22/03/2020), this meal was to thank Phil and Ollie for all their continuing support and work that they do within church and to mark their retirement from leadership. This is in response to the current situation surrounding Coronavirus.
We will be rearranging the meal for later in the year but we will keep you updated about this. We will still be acknowledging Phil's retirement within the morning service.
Please can you make sure everyone is aware and pass on this information to anyone who does not have access to the internet.
Thank you, David Rob & Ben
---
14/03/2020: What should we do about the coronavirus?
Hello,
We pray that this finds you safe and well.
As a leadership team, we feel it is important that we share some information with you about the coronavirus and the best steps we can take in response.
We have put this information into three categories for you. A practical bit, a pastoral bit and a final thought with some points for prayer. It's also important to stress that we are available if you have any questions or concerns, and that you are always welcome to give us a call or send us an email.
What should we do about the coronavirus?
The practical bit.
The Baptist Union has put out the following advice, which we would encourage you to use. Further information can be found on: https://www.baptist.org.uk/Publisher/Article.aspx?ID=568780
Currently Government advice regarding Coronavirus, COVID-19 is that individuals should follow good hygiene practices including:
• carrying tissues and using them to catch coughs and sneezes, and throwing the tissue away;
• washing hands with soap and water (for 20 seconds) or using sanitiser gel to kill germs.
• avoiding touching your eyes, nose, and mouth with unwashed hands.
• if you feel unwell, stay at home.
• cleaning and disinfecting frequently touched objects and surfaces.
• hugging and shaking hands is optional.
As a church, we feel it is appropriate that for communion we will continue to use one loaf of bread however this will be pre-cut into individual pieces before serving.
We will also be increasing our communication to keep people up to date on the latest news and advice. We will start to use emails a bit more to keep people informed about the impact on church life. We will also post information out on Facebook and the website so please check there if you want to know anything. And or course, there is always the phone if you need anything else.
Love your neighbour.
It's at times like these that the command Jesus gives us in Mark chapter 12 to 'love your neighbour' couldn't be more important. When the world around us seems dark, the light shines out all the brighter. Now is a great time to show love to your friends, family and the people we live alongside. Let's all take the opportunity to check in on those around us, make sure they are feeling ok and have all they need. James chapter 2 challenges us to demonstrate our faith by what we do, so let's take the opportunity to demonstrate love to those around us.
Perfect love casts out fear.
A final thought – It's easy at these times to allow fear to cause divisions in our community. People put themselves first and allow the media to cause them to fear other people. There is fear of catching the virus and there is fear of spreading the virus on to others. But the Bible teaches us a different way. In the Bible we see that
"There is no fear in love. But perfect love drives out fear…" 1 John 4:18
and in Romans 8 we read
"Who shall separate us from the love of Christ? Shall tribulation, or distress, or persecution, or famine, or nakedness, or danger, or sword?…No, in all these things we are more than conquerors through him who loved us. For I am sure that neither death nor life, nor angels nor rulers, nor things present nor things to come, nor powers, nor height nor depth, nor anything else in all creation, will be able to separate us from the love of God in Christ Jesus our Lord."
As children of God therefore, loved by Him, we have no need to fear. Our God is greater than anything this world can throw at us. So let us not fall into the trap of fear, but remember love and shine bright in the darkness.
Points for prayer.
You may find Psalm 91 helpful in your prayers for those around you.
• Pray against fear and remind ourselves that God has not given us a spirit of fear. "For God has not given us a spirit of fear, but of power and of love and of a sound mind" (2 Tim. 1:7).
• Pray for wisdom for our leaders to contain the spread of the virus while protecting the UK effectively. We pray also for the crisis response teams, NHS workers and emergency responders to be protected and be effective.
• Pray for couragement for believers to share Jesus effectively through this time of crisis.
24/7 prayer have shared a Prayer for Deliverance from Coronavirus. You can view and download this prayer here.
As mentioned, we will do our best to keep everyone updated. Please keep an eye out on the website for any more news. If you have any concerns or questions please do get in touch.
Our Sunday service will be going ahead as usual so we would love for you to join with us then.
Take care and God bless, David, Rob & Ben