Core beliefs
> We believe that God created the World, cares for His creation, and has a purpose for all of our lives.
> We believe that we can't please God on our own merit, and that we need Him to help us, and that in his love he sent His Son to save us.
> We believe that Jesus is the Son of God, both man and God, that He gave His life for us on the cross and that He rose from the dead and is alive today.
> We believe the Holy Spirit is given to every believer to bring transformation to their lives and the lives of those around them.
> We believe that God equips His Church with gifts and power to make a difference in the world.
> We believe that the Bible is God's inspired word to us, and it shows us how to live lives which are pleasing to God.
> We believe that Jesus will come again, and that the whole world will be judged by Him.
Baptist Union Declaration of Principle
As a church belonging to the Baptist Union we also adhere to a three-part
"Declaration of Principle"
that forms the basis of understanding for all who belong to the Baptist Union:
1) That our Lord and Saviour Jesus Christ, God manifest in the flesh, is the sole and absolute authority in all matters pertaining to faith and practice, as revealed in the Holy
Scriptures, and that each Church has liberty, under the guidance of the Holy Spirit, to interpret and administer His laws.
2) That Christian Baptism is the immersion in water into the Name of the Father, the Son, and the Holy Spirit, of those who have professed repentance towards God and faith in our Lord Jesus Christ who 'died for our sins according to the Scriptures; was buried, and rose again the third day'.
3) That it is the duty of every disciple to bear personal witness to the Gospel of Jesus Christ, and to take part in the evangelisation of the world.
What does it mean to be a Christian?
If you'd like to understand more about what it means to be a Christian, you might like to watch this presentation 'Two Ways to Live' or view this YouTube clip explaining how becoming a Christian can be as easy as A-B-C.
Believers' baptism
In the New Testament, of the Bible, we see baptism as a way for believers to make a public show of their faith. Believers' baptism is done by fully immersing someone in water. This is a sign that they are dying to their old life and, as they are lifted again out of the water, a sign that they are rising into a new life in Jesus. We have our own cross shaped baptistry pool, built into the platform at the front of the church.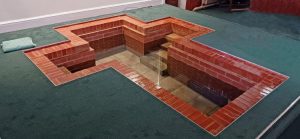 "Go and make disciples of all nations, baptising them in the name of the Father and of the Son and of the Holy Spirit, and teaching them to obey everything I have commanded you." Matthew 28:19