Creating space in the community to process the impact of Covid-19.
The impact on communities across the UK from Covid-19 has been profound. This is a chance to reflect on all aspects of the Covid pandemic.
The Big Covid Debrief project is designed to create space where all are welcome to take time to debrief on their experience of Covid. In this space there is time to talk, create and reflect; time to pause, process, and maybe even encounter some healing, before entering back into post-covid life.
Refreshments, Art, Crafts, Music, Creative Responses, Prayer Room, Space to Talk, And more…
Online sharing and reflection will also be an offer as part of the project for people who wish to continue with a virtual presence.
Our church building will be open for all age visitors. All welcome.
Let's Talk – allowing you to process your story to others
Get Creative – express how Covid has impacted you through various creative activities
Pause to Reflect – spend time listening to your inner world through reflection, prayer and stillness.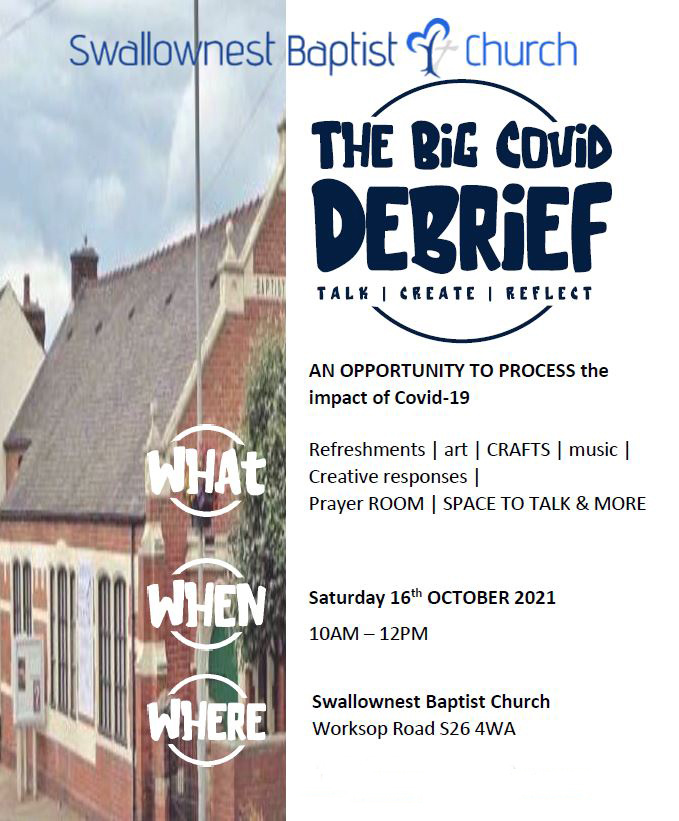 Find out more
Download/View: 'The Big Covid Debrief' booklet
Web: @The Big Covid Debrief   @The Big Covid Debrief – Swallownest
Facebook: @swallownestbaptist.church   @bigcoviddebrief
Talk. Create. Reflect.