Whether we are using the meteorological or astronomical definition of the seasons, we are now officially into Spring. With the unseasonable bouts of warm weather, our gardens and countryside are now bursting forth with evidence of new life. We are also now in the period of Lent.
Ollie and I recently visited Manchester Cathedral where, throughout Lent, a huge drape displays a verse from Genesis Chapter 3:
"Remember: thou art dust and to dust thou shalt return."
It serves as a timely reminder of our mortality and, in view of recent events around the world, of the fragility of life.
Of course, the season of Lent culminates in our celebration of Easter.
Often, the first reminder that Easter is on the horizon is the appearance of Easter eggs on the shelves of our supermarkets.
I have heard different explanations of the significance of eggs at Easter.
Perhaps the most obvious, alongside images of cute fluffy chicks, is that it is simply a symbol of new life. Less obvious, however, is the suggestion that the egg is a reminder of the stone which sealed the tomb of Jesus. However, in my favourite, the egg symbolises the tomb itself, from which the resurrected Jesus burst forth.
Jesus' tortuous journey to the cross and ultimate death paved the way to new life for all who will receive His forgiveness, mercy and grace. His resurrection demonstrates His victory over death for us all.
As you give and receive eggs this year, let them remind you of the full message of Easter. The message, about our amazing God who showed His love for us in sending His son, Jesus, to die in our place and His power in bringing Him back from the dead.
CHRIST IS RISEN, HALLELUJAH!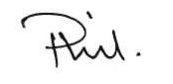 [table "1" not found /]