As we have come through May and look forward to June, many have already enjoyed holidays both at home and abroad in far flung parts of the world.
However, for many who work, or have children in the education system, the summer and any thoughts of holidays are still somewhere on the distant horizon.
Many will already have firm plans about where they intend to go, while others may be hoping for a bargain when they pick up a late deal. Others will be looking forward to days out in special places.
However, I am also acutely aware that there are some whose summer promises to be quite different – for all sorts of reasons.
I think of a number who are awaiting hospital treatment or are recovering following surgery and others suffering serious illnesses.
While some are excited about the prospect of the next few months, others will be facing it with a sense of uncertainty, even trepidation.
Over past weeks, one of the recurring themes in church and some of our house groups has been Paul's assertion that:
"I have learned the secret of being content in any and every situation." Phil 4:12
Most of us would be reluctant to make such a claim and we spend much of our time looking forward to 'better things'.
Earlier in this chapter Paul calls upon us to:
 "Rejoice in the Lord always."
This often feels like a very high, if not impossible, command. However, his call is not to rejoice in our circumstances, good or bad, but to rejoice in the LORD.
As we reflect upon the unfailing goodness of God, His provision and grace, it is my prayer that we will all know a greater measure of the contentment of which Paul speaks and that only God can truly give.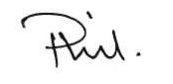 [table "1" not found /]