As you read this edition of our church newsletter, you will find a couple of references to the arrival, this summer, of our new Team Leader, David Skeet.
David and his wife Julie will join us on 31st August, as he is ordained into the accredited ministry of the Baptist church and inducted into the role of team leader of the existing team of elders – Ben, Rob and myself.
It is with a great sense of anticipation that we are busy trying to make sure everything is in place for their arrival.
We see this moment as something which God has been planning for us for some time. The process of calling someone to join the leadership has been long and at times, I confess, some of us have felt a little impatient, but we have come to recognise that, as we read in Ecclesiastes 3:11:
He has made everything beautiful in its time.
God's timing may be different to ours but His is perfect.
We are grateful to so many who have, over the past 140 years or so, led the church and brought us to where we are today.
Above all, we are grateful to God for His direction and provision throughout this period.
As we reflect upon this, we are confident that God has exciting times ahead for us as a church and as His plans unfold we all, as the body of Christ, will each have our own part to play.
Once again we need to hold onto His promise:
"I know the plans I have for you," declares the Lord, "plans to prosper you and not to harm you, plans to give you hope and a future."
Jeremiah 29:11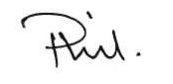 [table "1" not found /]